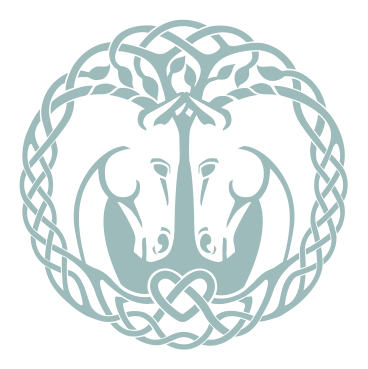 Equine Supported Wellness
"Horses lend us the wings we lack."
~ Pam Brown
"Horses lend us the wings we lack."
~ Pam Brown
What is ESW?
Offering an alternative approach to other traditional forms of talk therapy, Equine Supported Wellness (ESW) involves the use of horses in the therapeutic session.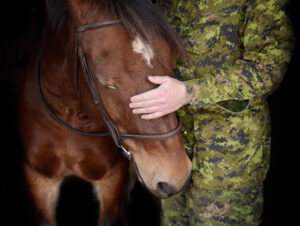 What does Equine Supported Wellness mean?
At Clannad, we believe that our mental health intertwines with our overall health, well-being and emotional needs to include a broader exploration of our social connections, emotional wellness, experiences, and patterns that we all have.
Equine Supported Wellness (ESW) is an alternative way to offer learning and mental health support with the involvement of horses in the session.
ESW encourages our learning and understanding, helps us to recognize the patterns that exist in our relationships, and allows us to grow our emotional connectedness and relationships with each other.
ESW is offered through two different streams of programming:
1) A therapeutic stream where we incorporate ESW as a form of mental health treatment that takes a traditional in-office talk therapy session and places it into a ring with horses.
2) An educational stream that focuses on supporting learning about horses, their behaviour and how they are in the world, and an opportunity to translate that into learning and reflection about ourselves and how we as humans exist and behave. By moving through a set of semi-structured exercises, participants will be a part of a journey of self-discovery and awareness, creating the opportunity for personal growth and healing ruptures in relationships.
What does an ESW session look like?
During an ESW session, you will meet a mental health provider and a horse handler who have both been trained in Equine Assisted Psychotherapy. The horse handler is present to provide a safe environment for both humans and horses.
ESW sessions take place in an indoor arena at Rohan Wood Stables with a small herd of 3-4 horses who are free to explore the space with you. Participants are supported through a series of semi-structured exercises that involve interaction with the horses most commonly from the ground so there is no riding component. Each group exercise is designed to support our learning and self-reflection, focusing on emotional needs and topics that we discover.
After each group exercise we come together in the ring to debrief the experience and make meaning of what patterns might have played out. The horses are in the space and choose to offer us their unconditional presence and support regardless of what emotions we bring.
ESW offers the opportunity to take part in powerful emotional work, but does so in a supportive, confidential environment that can
feel less clinical.
Who Can Utilize ESW?
There is no prior horse experience required to participate in ESW, Rohan Wood Stables is completely accessible and the activities that individuals, groups and families participate in can be responsive to any physical exceptionalities required.
Some of the benefits
that we see with ESW are:
Improved communication between couples, groups and families
Feeling more connected with others
A greater understanding of the roles we play in teams/family units
Recognizing patterns in relationships that we can then choose to change
Research shows a decrease in symptoms associated with mental health concerns such as anxiety and depression – particularly when ESW is practiced within a couple or family unit.
The Horses
As natural herd animals, horses offer a sense of security for each other, help each other face challenges and provide comfort to one another leading to overall emotional well-being.
The semi-structured exercises used in ESW allow the participants to benefit from the natural instincts of horses.
The experience with the animals provides immediate feedback to participants, leading to deeper self-awareness, discovery of buried
emotions, and can enrich the therapeutic process.
As humans, we are social animals who need
others in order to feel whole-and even to survive.
It is through this connection in our relationships
that we develop, understand and heal.


How is this different from therapeutic riding?
Therapeutic riding programs focus on the development of social, educational, physical, and emotional learning in a safe and supportive environment. Participants are a part of a riding and horsemanship skills program and are supported by program facilitators and volunteers who walk beside and/or lead the horsewhile the rider is mounted. These volunteers are key in assist with this learning process as well.
The Free Spirit Therapeutic Riding Association (FSTRA) is a local program who operate out of Rohan Wood Stables and are the largest therapeutic riding school east of Montreal, Quebec.
FSTRA supports hundreds of riders and their families each year with various exceptionalities.
We are able to offer ESW with gratitude to our key partner Rohan Wood Stables (RWS) who also believe in removing barriers, providing healing through relationships and building community.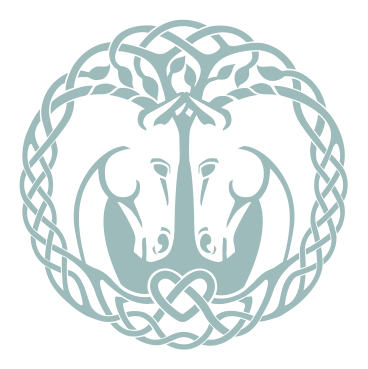 Current Opportunities to Experience ESW
We run a variety of different ESW programs throughout the year. Below you will find our core programs. If you would like more information on upcoming groups, visits our Equine Supported Wellness Facebook page.  Please note that all registrations for our Spring ESW programs close on March 15th and all Fall registrations close on June 30th. Spaces are limited.
For up current ESW information, visit our website: www.equinesupportedwellness.ca or visit our facebook page:  www.facebook.com/equinesupportedwellness
ESW Therapeutic Groups
Our SPIRIT Program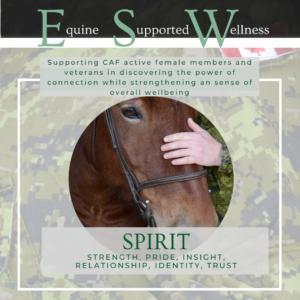 By reflecting on shared experiences and discovering the power of connection, SPIRIT aims to help women Veterans in exploring supports and strengthening their overall sense of wellbeing. When strong relationships are formed and a sense of community is established, our capacity to move towards healing increases.
Acknowledgement of Partners & Contributors
Through the generous funding from Veterans Affairs Canada,
the Free Spirit Therapeutic Riding Association (FSTRA) in partnership with Rohan Wood Stables and Clannad Counselling & Consulting Inc., are excited to offer the SPIRIT program. The SPIRIT program is designed to support women currently serving in the Canadian Armed Forces (CAF)/RCMP as well as women Veterans of CAF/RCMP who are living within the Central & Western Regions of Nova Scotia (Halifax to Digby).
The Program: What to Expect
SPIRIT is designed for all women CAF/RCMP Veterans (a VAC award is not required to participate).
The SPIRIT program include 8 weeks of Equine Supported Wellness (ESW) sessions at Rohan Wood Stables in Aylesford, Nova Scotia. These sessions take place once per week, for two hours at a time. Participants will take part in 6 sessions initially and then 2 more sessions later on.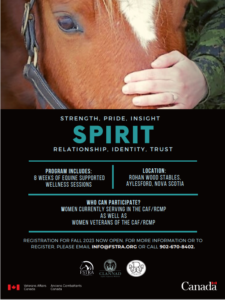 During the ESW sessions, participants will have the opportunity to spend time with a small herd of gentle and compassionate horses. Participants will be guided through carefully constructed exercises with the 
support of a Mental Health Professional and an Equine Specialist. The
 intention of these sessions is to allow for opportunities of reflection in how some of our patterns may keep us feeling stuck or overwhelmed. Weekly intention and attention will be placed upon supporting ourselves to settle into the space and experience moments of presence. Absolutely no previous horse experience is required.
This program will provide participants with the opportunity to connect with other women Veterans in a safe environment while learning new skills, discovering strengths, inspiring one another and exploring the healing power of relationships.
Cost & Payment

The total cost of the program is $200 per participant. Payment can be made by cash, cheque, or e-transfer and will be required on or before the first day of the program. Receipts can be provided upon request for individuals to submit personally to their insurance provider as group therapy.
Registration:
Registration for fall 2023 is currently open. For information on registration, please contact Katie (Program Coordinator) by emailing info@fstra.org or calling 902-670- 8402.
HERD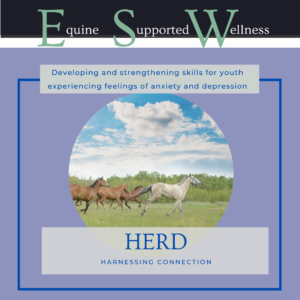 This program is specifically designed for youth who are experiencing feelings of anxiety, depression and loneliness. Participants will have opportunities to gain further understanding of the impact of anxiety and worry and develop or strengthen skills to support regulation. Topics covered will include navigating loneliness, managing challenging peer relationships and coping with intense emotions. Our carefully designed curriculum will walk participants through 6 weeks of intentional exercises that enhances distress tolerance, promotes problem solving, builds self-awareness and challenges perceptions around wellness.
STABLE GROUND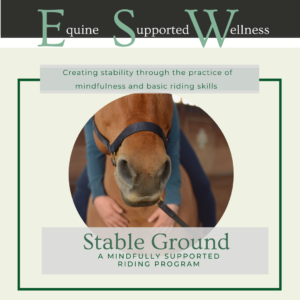 Stable Ground is a 6 week riding program carefully designed to teach mindfulness techniques through the instruction of introductory horseback riding skills. All sessions are facilitated by our highly trained staff involving both an Equine Specialist & Coach and a Mental Health Professional.
Participants will have opportunities to build connections with their horse, learn riding skills, while experiencing an improvement of mood, gaining an increase awareness of emotional needs, and developing positive social connections.
Reining in our Resources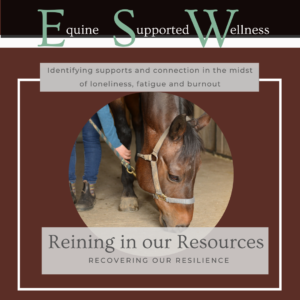 The global pandemic has only heightened our feelings of loneliness, isolation and weariness. Now more than ever we are needing connection and some semblance of "normal". This program is specifically designed around enhancing our experiences of connection by providing education on healthy relationships, reducing feelings of loneliness and providing opportunities to explore the hidden supports that may be available. We all encounter times in our life where we feel exhausted and are just 'going through the motions'. With a shift in perspective, participants will discover resources that will help to support their fatigue and isolation.
ESW Educational Groups
NATURAL INSTINCTS

This program is a learning opportunity for anyone who is interested in how equine behaviour can inform and model healthy relationships. This 4 week program will dive deeply into the natural instincts that horses demonstrate when living in herds at different ages and stages of development. Participants will receive in-depth content on how both horses and humans co-regulate each other, explore relational and attachment patterns and how they develop while considering how equine behaviour can inform our own healthy relationships and journeys of wellness. Participants will observe the different developmental stages through the introduction of 3-4 different herds throughout the program.